The 4 Best Sex Stools 2020: Your Ride in Achieving A Great Orgasm
Girl-on-top position and oral sex are two of the most loved fantasies both men and women secretly want.
Girl-on-top, reverse cowboy or classic, entails dominance of some sort. Oral sexual pleasure, on the other hand, is foreplay often taken for granted by a lot of couples.
Why am I discussing these things? Because you don't need to let those sexual fantasies stay hidden in the back of your mind.
It's time to take some actions, decisive ones, for that matter.
If you are like me, you will want to experience the dominance occasionally along with that that eye-rolling oral sex you want from your partner.
So, why not buy a sex stool? What's in it for you?
Read more, and you'll find out exactly why.
LoveBotz Bangin Bench Extreme Sex Stool
Get this sex stool with a dildo mount for an exciting ride to orgasm with or without your partner.
Bondage Boutique Sex Position Enhancer Chair
Buy this sex stool to experience girl-on-top without the aches on the knees and thighs.
Craving the Luxury you Deserve
Fetish Fantasy Series
Check out this sex stool for eye-rolling and body-shaking oral sex play.
Sex Stool Vs. Monkey Rocker Vs. Dildo Chair Reviews
A sex stool is sex furniture under the subcategory of a sex chair. Imagine a stool chair, except that the sitting area consists of elastic bands and a wide gap between the bands.
A sex stool is best with girl-on-top, oral sex, dog-style, or any positions that may need a chair as support during sex. It's a multi-functional sex toy explicitly designed with women in mind.
The Monkey rocker, on the other hand, allows you to mount your favorite dildo or vibrator and pleasure yourself to orgasm. Alternatively, you can use the monkey rocker while your partner takes you doggie style. You may want to check our future guide and review on monkey rockers.
Dildo chair is purely for self-stimulation and orgasm unless you want a double penetration and maximum pleasure. So, yes, you can use it with a partner, too.
Do you want to know how? Watch out for our upcoming guide on dildo chairs.
Which bouncing sex chair is better?
None because these sex toys have their purpose and use. The bouncing sex chair is best at what it's made of, so the word better depends on perspective.
But if I were you, I'd go for sex stool for now because it's multi-functional. You'll be surprised how versatile is this sex furniture compared to others.
Now, the next question is, how do I choose the best one to buy? 
Here are some things to consider.
Things to Consider When Choosing the Best Sex Stool
Dimensions

Load Capacity

Materials

Features

Price
The standard dimensions are 19 inches (length) by 19 inches (width) by 15 inches (height). Some sex stools have up to 21 inches in length, but the opening might still be 19 inches.
With these dimensions, the sex stools will fit people up to a large or semi-large frame for a girl-on-top position. So, it's worth noting to check carefully for the dimensions.
With other positions such as doggie style, the important thing is the load capacity. Dimensions won't be a deciding factor.
The stool must hold your weight. So, it's essential to look at the load capacity. Most weightless sex stools range from 120kg to 150kg load capacity.
As long as you don't exceed the load capacity, the elastic bands can hold the bouncing actions during sex.
Since you'd be riding the stool to a great orgasm, choose an all-steel or 100% metal for its base.
Often, the metal base has a padding of some sort like a sponge for a better grip. So, you don't need to worry if you have allergic reactions to some metals.
The bands are reinforced elastic or high-strength TPU for longer bouncing life. Most stools are black colors, while others have clear elastic bands or vinyl-like elastic bands.
TPU is a rubber-like plastic that is a lot stronger than ordinary plastic or rubber. So, yes, this material might be sticky or slippery when it gets wet.
Stools for sexual pleasure are simple but multi-functional sex toys.
The extra feature available is a metal bar or an equivalent where you can mount your favorite dildo. Some sex stools may have an armrest.
If you want some BDSM actions in the bed with this sex furniture, you need to buy BDSM accessories such as cuffs and bondage. Since these accessories are versatile pieces, you can easily tie them into the stool.
The price may vary. Some weightless sex stools are around $50 up to $200.
After knowing the essential things in buying your first sex stool, here is a detailed sex stool review on four of the best I have found online.
A Pipedream sex stool brand, this oral sex chair can remove the strain off your thighs and knees. It is best for people who have knee injuries and still want to bounce on top of their partner.
The Fetish Fantasy sex stool is weightless. It is perfect for couples who want to try new positions and for playing hard.
This stool for sexual pleasure helps you in achieving deeper, maximum penetration, and greater pleasures.
You don't need to hold back. Explore the newest positions or spice the ordinary ones with this sex stool.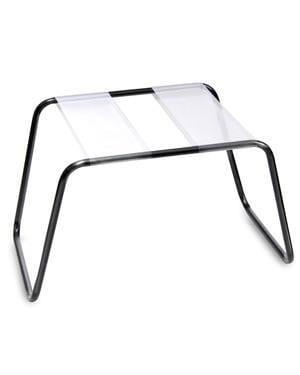 Shop now to check the latest price for this weightless sex stool.
Prices of products often change. Click the button above to see the price from our favourite online store.
LoveBotz Bangin Bench Extreme Sex Stool
Bang your way to orgasm with weightless sex bounce that you never thought were possible.
This bounce sex chair includes a removable red raiser. Your partner can go under the seat for more intense oral pleasures.
Alternatively, you can mount your dildo on the raiser with the suction.
So, you can pleasure yourself and ride like a cowgirl, even if your partner is away for a few days.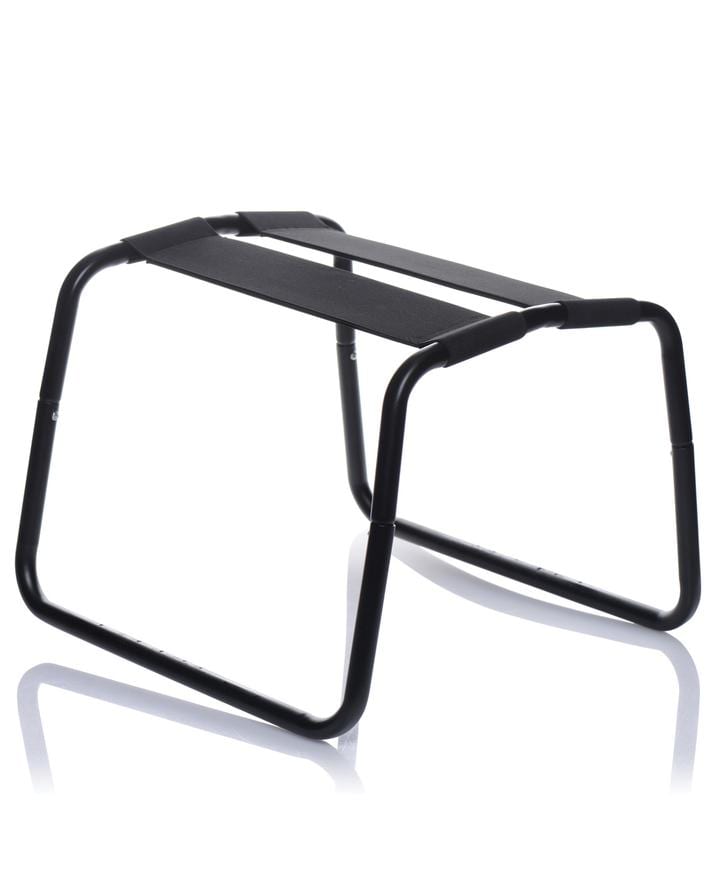 Get and use this shower sex stool and achieve orgasm with or without your partner.
Prices of products often change. Click the button above to see the price from our favourite online store.
Bondage Boutique Sex Position Enhancer Chair
The incredible sex stool for sexual pleasure is the embodiment of practicality and maximum shared pleasure. Give yourself and your partner an unforgettable climax.
With this stool, you can now do girl on top or reverse cowgirl positions. The elastic bands are four-times bouncier than other weightless sex stools.
Take the strain off on your muscles and thighs. You can ride like there's no tomorrow.
Experiment with your heart's desires and achieve a new level on a sexual relationship with your partner.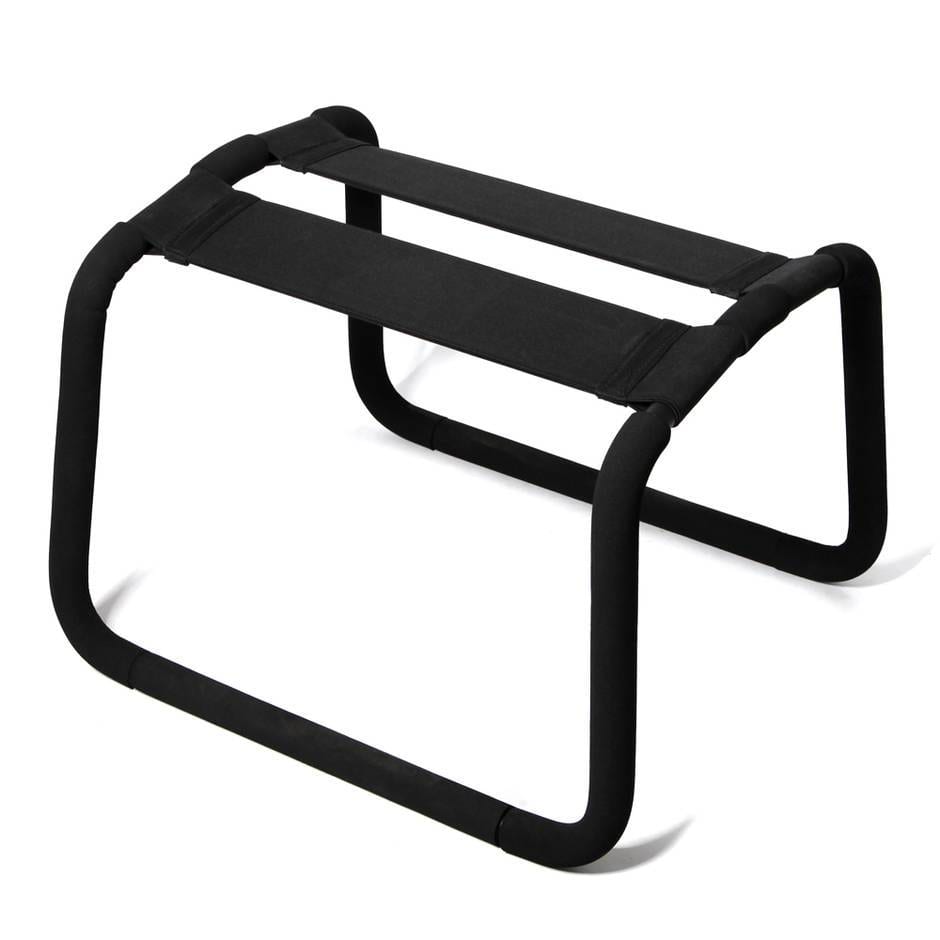 Buy the incredible sex stool for a daily and nightly riding to orgasm.
Prices of products often change. Click the button above to see the price from our favourite online store.
Rodam Toy Chair for Couples
Experience an intimate night with your partner with this toy chair for couples. Control every bounce and achieve orgasm without putting a strain on your hips, knees, and thighs.
This toy chair for sexual pleasure is adjustable and portable.
It's a piece of versatile furniture for sexual pleasure that allows you to do different positions such as cunnilingus, girl on top.
No matter how aggressive your bouncing is, the bouncy stool will accommodate your actions.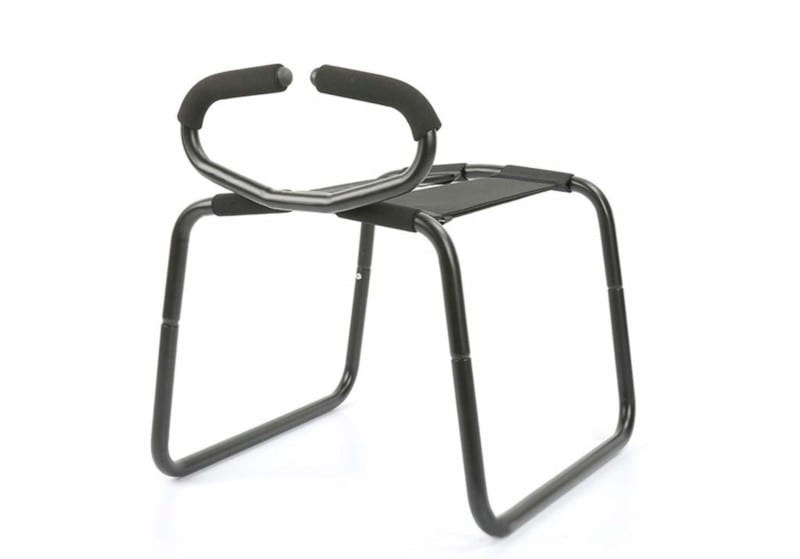 Get this adjustable sex stool for a quick, steady ride to an intense orgasm.
Prices of products often change. Click the button above to see the price from our favourite online store.
I know you still have questions, so I collected a few questions that other people ask when buying a stool for sexual pleasure.
If you have additional questions about a sex bouncer and they're not here, feel free to message me. I might know the answer.
What if I'm heavier than the stated load capacity?
I recommend sticking to the load capacity, as mentioned in the package.
Experiment with positions but not at the expense of safety.
What will I do if my weight is beyond the load capacity?
The only way to have a stool for sexual pleasure similar to this guide, you'll need to have a customized one to accommodate your body frame.
Can I make my DIY sex stool?
If you have the tools and materials, the answer is yes.
But, if you don't and want to create a customized stool for sexual pleasure and positions, you can make the design. Then, find a furniture maker to create your design.
What is an alternative for spring sex chair?
If you don't like a stool for sexual pleasure, you can use the Lovebotz saddle. I have a post upcoming. You might want to sign-up for updates, so you can read it first-hand.
A sex stool is an essential part of your sexual life if you want to spice things up a bit. Give yourself and your partner a girl-on-top ride with this seat, and you'll thank me later.
This multi-functional seat for sexual pleasure can go a long way in helping you achieve an orgasm that isn't in doggie or traditional missionary.
So, buy one of these sex stools now and experience the excitement of riding on top. I'm telling you the sensation is tantalizingly different.