The Best 7 Sex Pillows to Boost Your Sex Life in 2020
Does sex feel like a chore? 
Are you experiencing mindblowing, spine tingling, body shuddering, toe curling sex?
Sex isn't just the rudimentary process of procreation. It is supposed to be a time of exploration and supercharged excitement. 
If it isn't then it would seem you are missing one vitally essential piece of furniture from your bedroom, a sex pillow!
A sex pillow is just a pillow used to electrify foreplay and intercourse. They are designed to support the body in different positions.
They stop your hips from getting sore and they keep you comfortable for longer. If that's not enough, they also allow for deeper penetration!
Sex pillows come in a variety of shapes and sizes, do you know which one you should get and how do you know which one is the best?
Well, because you might not feel up to asking around at work I am going to help you learn more about the things you need to consider when choosing which one to buy. On top of that I will also give you seven sex pillow reviews.
Are you ready and excited to learn more? Let's get it on.
Liberator Pulse
Check the Pulse pillow because you get a sex pillow where you can mount your favorite sex toy.
Flip Ramp
Purchase this Flip ramp for a nightly (or daily) dose of wild humping with your partner.
Liberator Heart Wedge
Buy the Heart wedge because it's a sex pillow with the cutest design but functional.
What to Consider When Buying your Sex Pillow
Choosing the best sex pillow should be easy and fun. Thus, I have rounded up a list to make your buying experience a lot easier than ever.
Type​

Size​

Inner Material​

Outer Material​

Design
Sex pillows have two categories, the sex pillow wedge and ramps.
A wedge pillow lifts your bottom for deep penetration. Alternatively, a sex bed wedge can support your head and torso for better access to your partner's yummy parts.
A sex ramp supports your whole body from head to butt.  If you prefer fellatio or cunnilingus in foreplay, a wedge or ramp is useful.
A sex bed wedge is smaller in size compared to a sex pillow ramp. These are triangle sex pillows when viewed sideways.
You can choose from different sizes that can accommodate your body frame, whether you're small, medium, or plus size.
Sex pillows are either high-quality foam or inflatable.
Choose a sex pillow that can support your weight and the intensity of your sex play. Often, people buy cheap sex pillows and end up frustrated.
So, our recommendation is to choose firm foam that is still soft and comfortable. This foam is high-grade and high-density and it will make you sigh in satisfaction.
Often, the cover is a velvety polyester giving it a silky feel. The silkiness of the pillow cover adds to the excitement because it's like a lover's caress.
Also, be on the look out for covers that have a waterproof lining. A waterproof pillow lining protects the inner material from lubricants, oil, and love juice. So, yes, it is a must.
The design is either a regular looking slope or gentle curve that contours to your body. Some sex pillows are inflatable and are portable. 
So, do you want to bring along your sex pillow when you are travelling? If you do, an inflatable sex pillow is the better choice.
However, the feel of having sex on it might be different from sex pillows with firm foam.
Most sex pillows are heavy and are best for home use. Some pillows look like ordinary bedroom accessories.
7 Best Sex Pillow Reviews
All right, let's get down to business.
Here are the detailed reviews of the best sex pillows I have found.
Spice up your sex life with the liberator ramp. With a 10 to 14 inch rise, it lifts your butt high, giving your partner easy access.
At the same time, you get to enjoy whole new levels of sensation.
The Liberator ramp is ideal for doggy style (or deep dog) and girl-on-top positions because of the steep angle, about 45 degrees. It accentuates your satisfaction while providing ergonomic support.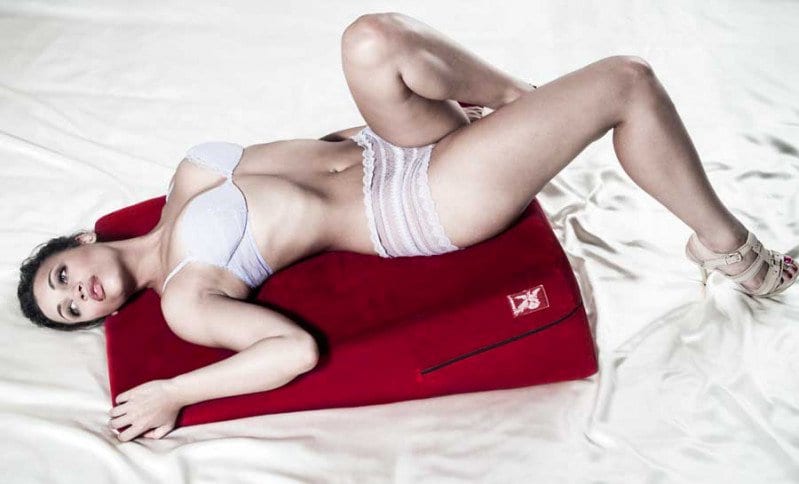 Try it now, especially if your favorite position is the doggy style or the rampage.
Prices of products often change. Click the button above to see the price from our favourite online store.
Flip and slip no more! The flip ramp is a versatile sex pillow that combines discretion and functionality.
In bed, flip it open to reveal an inclined ramp with gentle curves. The flip ramp is ideal for oral foreplays and steamy sex from behind.
If the angle isn't enough, close the sex ramp, and you got a square sex pillow with more height. This pillow makes off-the-bed positions more exciting, too.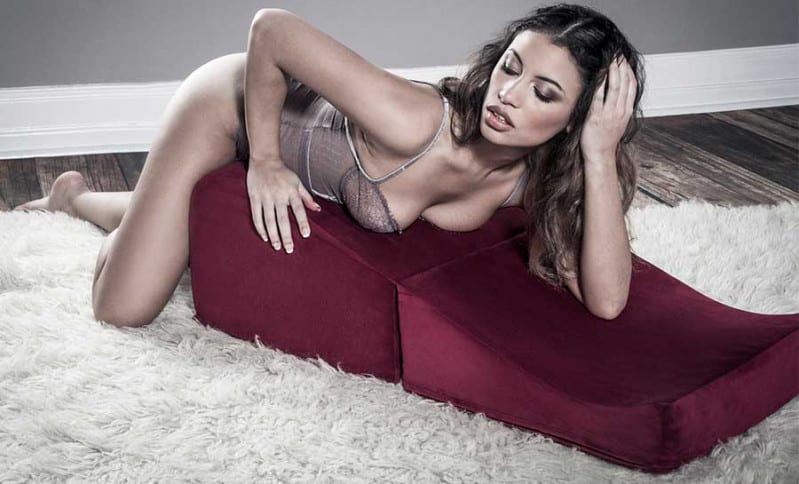 Do you want one? Remember, oral foreplay will be a lot more sensual and different than what you are used to.
Prices of products often change. Click the button above to see the price from our favourite online store.
Simple and cute are the two descriptions I can make for this sex pillow.
The liberator heart wedge is small but creates the right position for hitting the G-spot.
The velvet cover is 100% polyester with a waterproof lining.
You don't need to worry about making a mess on it during moments of ecstasy.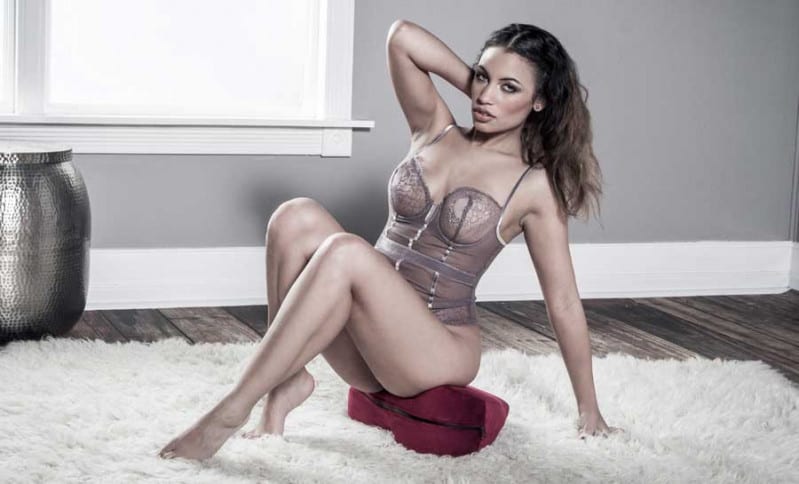 Are you ready to level up your bedroom sexcapades? Try this heart wedge for the promise of more steamy nights.
Prices of products often change. Click the button above to see the price from our favourite online store.
Functional but subtle, the Liberator body wedge offers optimized support during sex. It is ideal for missionary positions, giving much deeper penetration.
If you're into anal or deep doggy style, this sex pillow would be an excellent accessory during your steamy sex sessions.
There's no need to worry about getting sore knees,  sore pelvis or sprained wrists anymore.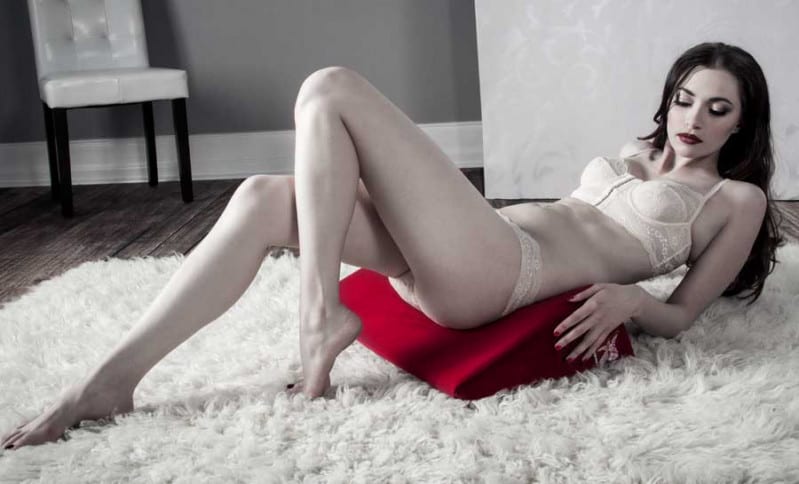 Do you want a little improvement in the typical missionary position? Then this is a sex pillow that will raise you to some exciting levels of sex play.
Prices of products often change. Click the button above to see the price from our favourite online store.
The Liberator pulse is a dildo cushion that mimics a natural and similar rocking sensation during sex. It is narrow and low in height, perfect for a classic or reverse cowgirl.
You can use it for solo play. The Pulse has two pockets, where you can attach your favorite vibrator. It also has a hole for your dildo.
Alternatively, you can use it with your partner as a pillow or for clitoral stimulation during foreplay.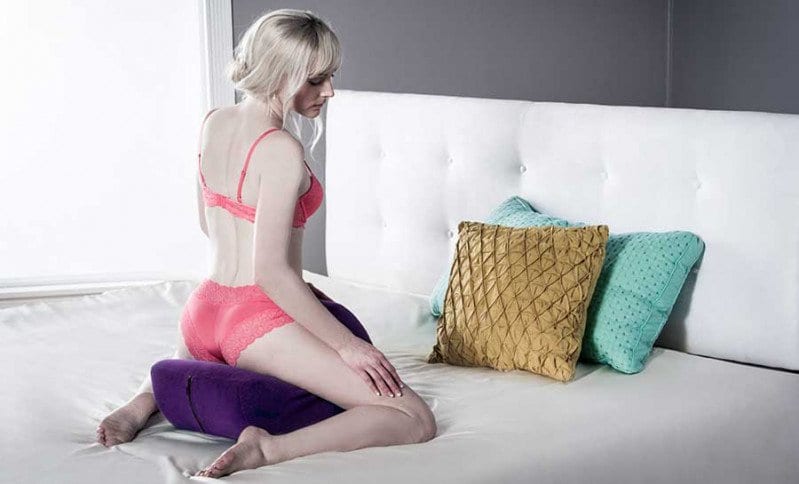 Prices of products often change. Click the button above to see the price from our favourite online store.
Axis Magic Wand Toy Mount
The Liberator Axis is a wedge sex pillow for women who want to mount their favorite toy. You can now enjoy hands-free stimulation while getting a wild humping from your partner.
You have total control and at the same time it is comfortable with this fantastic wedge slash toy mount.
Without a wand mounted on the slot, you can use it as a typical body wedge. The Axis serves as a sex pillow for men as well.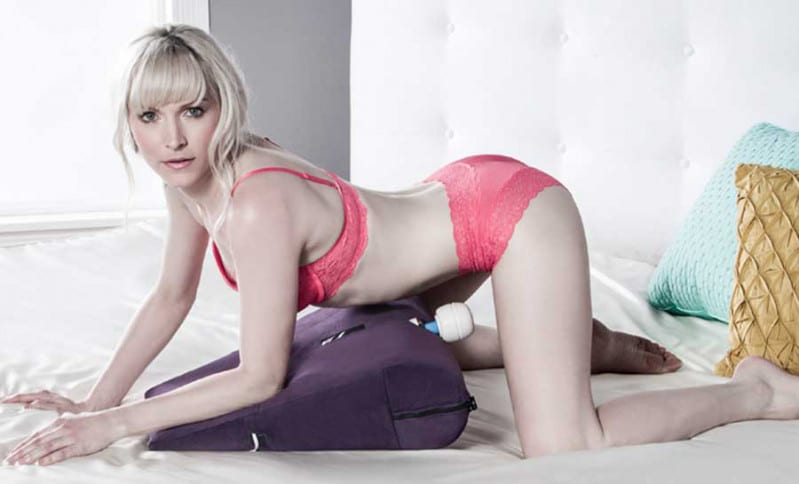 Prices of products often change. Click the button above to see the price from our favourite online store.
Enhance the intimacy between you and your partner with this portable and inflatable sex pillow. The half-moon pillow is a perfect doggy style pillow due to its downward angles and semi-circle design.
It props your hips at a comfortably high level. Perfect for the sex from behind position.
Surprisingly, the shape will hold a doggy style position, preventing you from slipping during the heated action. No matter how hard the thrusts your partner makes, the sex pillow will vigilantly maintain its position.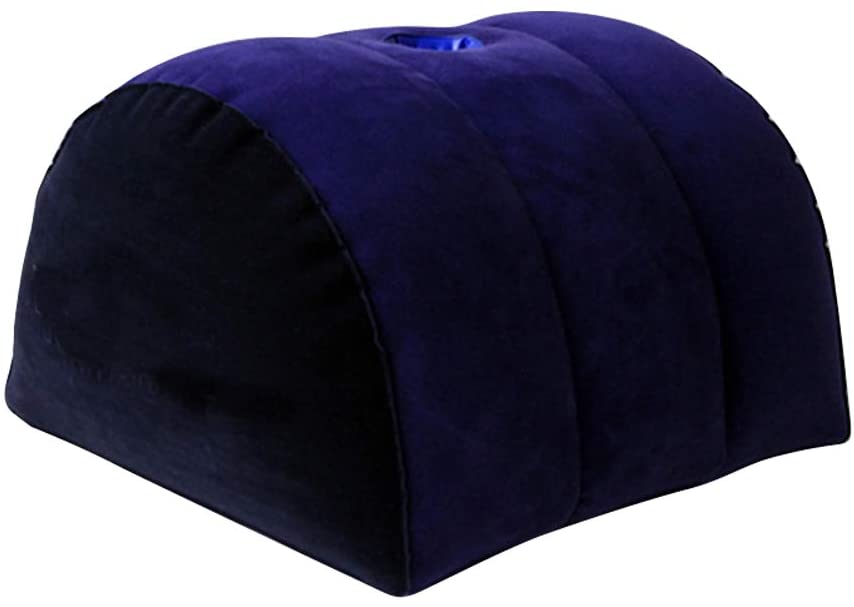 Prices of products often change. Click the button above to see the price from our favourite online store.
It is a piece of sex furniture that aids sex positions to heighten sensation and enhance penetration. The popular categories are sex ramp and wedges.
How to make a sex pillow?
If you don't have the budget for an expensive sex pillow, you can make it yourself. Watch out for our guide on how to create one.
Why put a pillow under your hips during sex?
Putting a pillow under angles your hips in a certain way. It can give your partner easy access to your G-spot and can lessen the pressure on pelvic thrusts during an intense sex.
How do you have sex with a pillow?
Lovemaking with a sex pillow underneath your hip isn't rocket science. You do whatever you do during sex, except that you put a pillow under your hips or you straddle it.
How do you use a wedge pillow for sex?
You can use a wedge pillow for sex during masturbation or actual intercourse. The ideal position is doggy style, reverse cowgirl, missionary. We have compiled a list of 9 Best Sex Pillow Positions to try on our blog.
How to masturbate with a pillow?
Masturbation is better if you're using a Liberator pulse or a toy mount. You can mount your favorite toy in the sex pillow and ride it to until orgasms rock your body.
I know what you're thinking. If having sex with a pillow underneath is comfortable and relaxed, would an ordinary pillow be enough to create excitement? Well, yes, to some extent, you can do that.
However, there is a reason why pillows are in your bedroom. These bedroom accessories are for sleeping, and sex pillows are for sexual enhancement and excitement.
These sex pillows have ergonomic design that ordinary pillows don't have, even those pillows that enhance sleep.
I'm not exaggerating when I say a sex wedge or ramp will make you forget everything.  I know you'll love to experience mind-blowing sex once in a while. So, I recommend that you at least try one sex pillow.
If you want to take it a step further, take a look at our tantra chair review page!