Buy the Best inflatable Sex Furniture in 2020
If you had told me that I could potentially have sex in the air, I would have asked where to sign up.
Well, I know inflatable sex furniture isn't quite "floating in the air". It is, however, as close as most of us may ever get to the ultimate experience at a reasonable cost. 
Inflatable furniture does not only provide a bouncy and often awkward playground. The more prudent ones among us will know that it is a space saver. You can blow it up when needed and deflate it when you are done using it.
The usual concerns often attached to having sex furniture include the fear of prying eyes. This is one concern that is easily brushed away by this kind of furniture.
Perhaps the difficulty would then be one of choosing the perfect furniture. Not to worry, we will introduce you to some incredible options shortly.
Types / Categories of Inflatable Sex Furniture
Inflatable sex furniture can be divided into 3 categories. They come in the form of chaise/chair/bench, bed and sex pillows.
The one that you pick will largely be determined by the sort of activities that you have planned for it. An Inflatable Sex Chaise / Chair provides back support for at least one person. 
It allows them to lay back in a way that would make penetration easier. This makes it ideal for certain positions.
The ones that come to mind will have the erection being holstered from the seat while the recipient is on their feet. 
An Inflatable Sex Bed provides sufficient room for one or two partners to lay on it together. In most cases, you would be able to use it in the same ways that you can use a regular bed.
The key difference here is that the evidence (if any) can easily be hidden away afterward.
Inflatable sex pillows allow us to take up positions that would have either been impossible or painful to achieve.
You would be surprised how far one can go with a little support in the right areas.
Perhaps each to their own applies to sex as well. There are some universal concepts such as comfort which these products have in common.
Fetish Fantasy Inflatable Sex Position Master
Fetish Fantasy Inflatable Sex Position Master comprises two pillows (here you can buy wedge & ramp). This gives you various options when it comes to placement.
You can take the approach of having one pillow per partner. It will come down to the positions that you are looking to take part in. 
The top part of these sex pillows is very soft, which I am sure you will appreciate once things get kinky. No matter how rough you like it, your furniture should hardly be a part of that equation.
The two pillows are wittingly named the G-spot loving mattress for the small one, and the Orgasmic ramp for the larger one. While this may not necessarily dictate how one can use them.
We do know that the large one is designed to support full body weight. It is wide enough for one or both partners to get on top of.
You can be as creative as you would like with the positions.
The g-spot loving mattress has some limitations to it. There are only so many positions that you can execute with that little room. The ideal ones would include the doggy style.
Emphasis should be on deep penetration if anything. Look to combine the pillows instead of using them individually where possible.
Prices of products often change. Click the button above to see the price from our favourite online store.
Inflatable Multifunctional Sofa Chaise Lounge
The multifunctional chaise lounge is one of the best sex furniture for those that are looking for versatility.
You will be pleased to know that it can support a combined weight of up to 300lbs, which is quite impressive. The manufacturer describes it as a "Magic Sex Sofa" due to the variety of positions that you can engage in thanks to its shape. 
The material on the upper part where you would lay has a suede feel to it. This reduces the rate at which one would slide down it. It also makes it more comfortable.
There are two sizes available, medium and large.
These variations allow for either partner to be on top, as well as for deeper penetration. The design of the air valve and the seal is such that it is easier to inflate and deflate your sex couch. This makes it easier to store away after use. 
As a bonus, it comes with a pair of hand and ankle cuffs. If those do not inspire some adventures, I don't know what will.
Prices of products often change. Click the button above to see the price from our favourite online store.
Inflatable Sex Pillow for Lovemaking
While other inflatable pillows may struggle for space, this one provides you with ample room.
You will be pleased to know that you will not be needing a pump to inflate or deflate it. It comes with an electric one.
That is one less logistic to deal with before sex. The less of those you have the better. 
The shape of the pillow is such that it is always balanced. It facilitates body weight distribution across the surface.
The elevation allows for both partners to be on the pillow during sex if desired. There is a wide range of positions in which the man or woman can be off the pillow. 
For comfort, the top part of the pillow is layered with faux leather. It has a suede sort of feel to it.
Our favorite feature is the pillow on the elevated end. This gives you somewhere to grab during sex, as do the handles on either side. Other, more sturdy sex pillows you can find in our reviews.
Prices of products often change. Click the button above to see the price from our favourite online store.
Pipedream Fetish Fantasy Remote Control Portable Inflatable Love Lounger
The inflatable love lounger is one of the few sex furniture of its kind that is remote controlled.
You will be pleased to find that it can take on weight of up to 300lbs.
The design is such that you can use it as a couple or an individual. For the single user, the remote control will bring this lounger to life. It has the capability to deliver some good strokes.
There are three vibrators that are included with this lounger. You can use any one of these to enhance your experience as a couple, or alone.
Each side of the lounger has a hand strap to it. This allows you to enjoy some bondage action if you would like to.
The only thing that we were not quite pleased with is that there was no C battery included. It is not that these are difficult to come by. No one likes to have to wait or go out to get some batteries before using their new furniture.
Durability remains to be seen. Until that can be established we know we are onto a good thing here.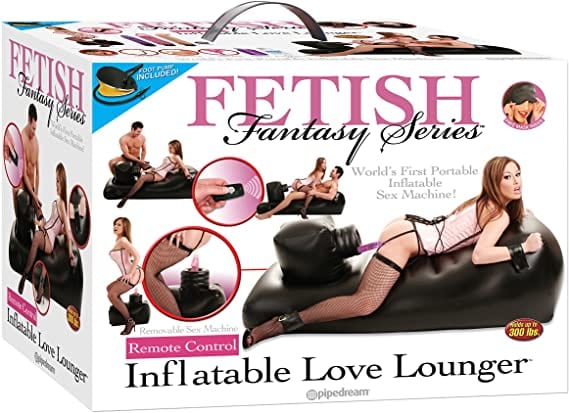 Prices of products often change. Click the button above to see the price from our favourite online store.
Half Moon Pillow Adult Toy Mount For Couple Sex
I don't know what anyone could possibly expect that is better at the price point that this pillow comes at. For such a simple design it delivers some variations of use.
One of the first things that are both negative and positive is the size of it. This makes for ease of transporting.
Most of us don't get to travel with our sex furniture. Well, this changes things.
Having said that, the size also means that there is limited room on it. Which in turn means that there are some limitations when it comes to how you can use it.
The creative and daring ones among us will always find a way. 
There are two key uses that we found right out of the box. You can use this as an elevation pillow for the lady when engaging in positions such as the doggy style. It can also be used in some variations of the missionary. 
The one use that we would not have anticipated as the internal channel for a dildo. This allows ladies to have a more hands free experience with their dildos.
I am sure there are other uses for those freed hands. 
The pillow is said to support up to 300 lbs. I am not sure what to make of this, due to how small it is.
Perhaps we can rest assured by the fact that there isn't enough room to go above that weight anyway.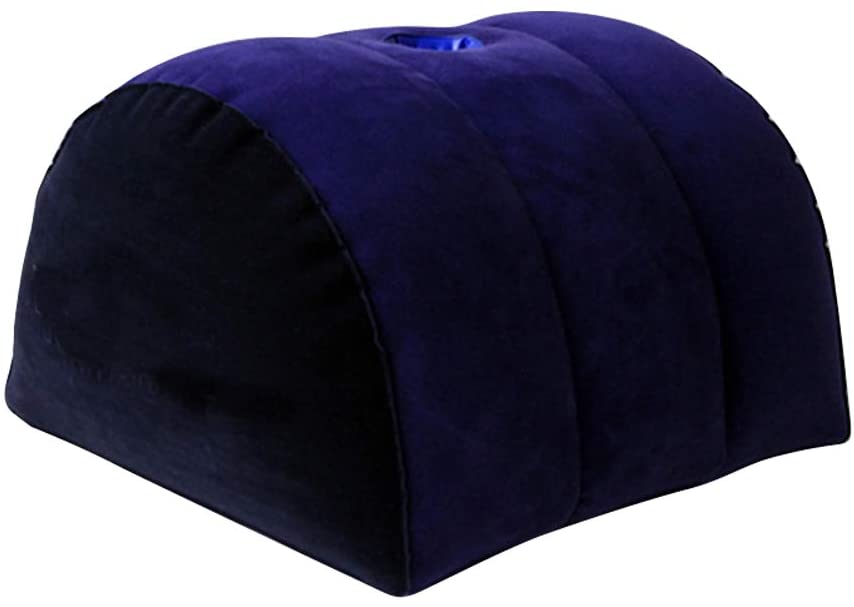 Prices of products often change. Click the button above to see the price from our favourite online store.
It is not quite a matter of life and death, but picking good inflatable sex furniture is of utmost importance. Not only does it ensure that you do not waste money on products that are not worth the air that you blow into them.
It also means that you can also be blown or blow your lover in mid-air.
How sexy is that?
There is no foolproof way to make a decision on this. 
One way to do it is to consider whether you plan to be traveling with your furniture. If not, then going with the larger ones may be wise. If you will travel with it, pick a small but sturdy one.