Womanizer Pro40 vs W500: A Comprehensive Comparison of Two Popular Sex Toys
I believe that every person has the right to explore their own pleasure and sexuality in a safe and consensual way.
That's why I'm excited to dive into a comprehensive comparison of the Womanizer Pro40 and the W500.
Both of these devices are designed to bring pleasure to the wearer, but they have some key differences that are worth exploring.
In this article, I will compare these two models to help you decide which one is the best fit for you.
Pro 40 or W500: Which Womanizer Toy is Better?
Now, I will provide my expertise and insight into each device so you can finally decide which one will give you the most bang for your buck.
I'll compare their features, design, performance, and of course, my own personal experiences.
With this information, you'll be able to make an informed decision and choose the device that will help you experience the most mind-blowing pleasure!
Both the Pro40 and the W500 feature a silicone head for added comfort and a more realistic feel.
The silicone material is soft and flexible, making it gentle on sensitive skin. It is also easy to clean and maintain, making it a hygienic choice for your toy.
All Womanizer's suction heads are made of hypoallergenic medical-grade silicone.
One of the standout features of Womanizer toys is their Pleasure Air Technology, which provides intense stimulation through the use of suction and vibration.
This technology is present in both the Pro40 and the W500, but the intensity level and the way it is activated varies between the two models.
One of the main differences between the Pro40 and the W500 is the design of the suction head.
The Pro40 has a smaller, more compact head, while the W500 has a larger head with a wider opening.
This may affect the intensity of the suction and the overall sensation during use.
Both the Pro40 and the W500 offer adjustable intensity levels, allowing you to customize the intensity of the suction and vibration to your preferences.
The Pro40 has 6 intensity levels to choose from, while the W500 has 12 levels.
The battery life of the Womanizer Pro40 is up to 4 hours. The Womanizer W500 has the same runtime. It's great compared to other models (f.ex. Womanizer Classic 2).
My Experience with Womanizer Pro (W500)
I absolutely love the Womanizer W500!
It is an amazing sex toy that has an incredible range of sensations.
I love how it can be used externally, depending on the intensity that I want.
The variety of levels and settings allow me to experience different levels of pleasure, and I love that I can control the intensity to make it as intense as I want.
I also appreciate the hygiene features that come with the product, such as the removable silicone head that can be cleaned with warm water and soap.
The one thing I don't like about the Womanizer W500 is that it can be a bit noisy.
It can be difficult to find a quiet level of pleasure with it, so I usually have to turn the volume up to the highest level in order to get the most out of it.
My Experience with Womanizer Pro40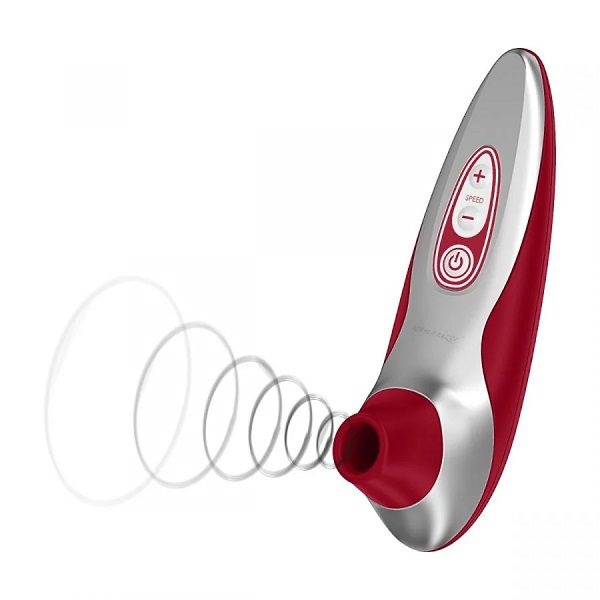 The Womanizer Pro40 is a great product, and I like how it provides a unique and intense sensation.
I like the different intensity levels and how it can be used in a variety of ways.
However, it can be a bit too intense for my liking, and I find that I prefer the Womanizer Premium more, as it gives me a more subtle and gentle experience.
All in all, it's still a great product, and I am glad I got to try it out.
Are you in search of something to tantalize both your body and your mind?
Look no further than the Womanizer Duo!
Let me tell you why it's the perfect toy for external and internal stimulation. Read more in my review.
In conclusion, both Womanizer models: Pro40 and the W500 are high-quality sex toys that offer intense stimulation through Pleasure Air Technology.
Both models are designed to provide users with powerful and pleasurable sensations and are made of body-safe (silicone and abs plastic) materials.
I guarantee that you'll have a blast playing with these sex toys (whether you're playing alone or with a partner)!
Check also: Womanizer Pro40 vs Other Models