Sex Toy Review: Lelo Ina vs Soraya Rabbit Vibrators
We all love bunny vibrators, but not just for their ears.
Interestingly, the first toys were made in this shape due to legal restrictions. For example, in Japan, they couldn't be shaped like a penis (1).
Companies started looking for a way to bypass the regulations… and that's why today, I'm a happy bunny mom.
This is my favorite type of sex toy. I assume yours too… but ugh I got carried away.
Today, I have prepared for you a comparison of two… not so much cuddly, but vibrating, friends.
Rabbit vibrators are a popular choice among sex toys, as they offer both internal and external stimulation.
These types of vibrators are specifically designed to stimulate the g spot and clitoris at the same time, using separate motors for each type of stimulation.
The Lelo Ina and Soraya are two high-end rabbit vibrators that offer intense stimulation and a variety of vibration patterns.
Why do I love them? They come in sleek, stylish designs, with silky smooth silicone that feels amazing against the skin.
Plus, the powerful vibrations are incredibly intense, making it possible to reach new heights of pleasure.
So if you're looking for an innovative and luxurious sex toy, let me take your pleasure to the next level.
I'll tell you more about Lelo Ina and Soraya. I am sure to bring you an unforgettable experience that you won't soon forget!
Don't forget to use plenty of lube, or else it won't be as fun. Let's get this bunny party started!
The Lelo Ina is a rabbit vibrator that is designed to provide a pleasurable sensation to the G-spot and the clitoris.
It has two separate motors, one in the shaft and one in the external stimulator, which allows for separate control of the vibration patterns and intensity in each area.
One of the standout features of the rabbit sex toy is its battery life, which lasts for up to two hours on a single charge.
It is also completely waterproof, making it easy to use in the bath or shower. It's gonna be a WET and WILD ride!
The insertable length of the Ina is 4.3 inches, and the external stimulator is flexible, allowing it to adapt to different body types.
The Lelo Ina is made of non-porous ABS plastic, making it easy to clean and maintain.
When I was looking for a toy, I stumbled upon this review.
"This is my second Lelo INA, my first one was bought 8 years ago and never let me down! When it started being weaker, I just replaced it with the new version, and what a great surprise, it's even waterproof… I'm ready for another 8 years of orgasms!"
Do you know what I did? Yeah, you got me. I added it to the cart.
Read also: Lelo Ina 3 vs Ina Wave 2!
Have you ever spoken with the goddess?
No? Me neither.
But I love feeling this way.
I just need to turn on my Soraya and I can sing like Rihanna's "Want you to make me feel like I'm the only girl in the world".
I touch my skin with a suction head… And I can't say anything more, haha.
My new lingerie ESPECIALLY helps.
You may think that the Lelo Soraya is another high-end rabbit vibrator that offers both internal and external stimulation.
It features two separate motors, one for the shaft and one for the external stimulator, allowing for customizable pleasure… Blah blah blah…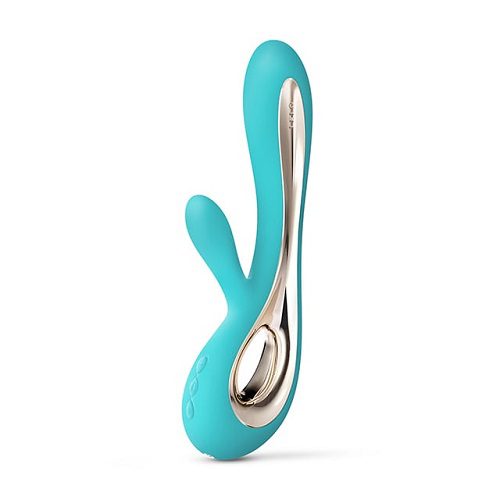 I would rather say… You WANT to try this. You don't know yet, but you don't just NEED TO TRY… You won't want to STOP.
Like the Lelo Ina, the Soraya has a battery life that goes on and on, like an Energizer bunny hopped up on espresso!
It's also completely waterproof – perfect for those who like to get their groove on while getting clean!
Your home has never sparkled so clean… At that moment I realized that with my collection of toys…
I should buy a mansion. Lol.
I'm finishing up… the cleaning… too quickly.
You need to know, that the Lelo Soraya has a slightly different design than the Ina, with a sleek and ergonomic shape that is specifically designed to fit a variety of clit types.
It has a flexible clitoral stimulator too that you can adapt to your shape and size.
What more? The shaft has a smooth, silicone finish that is both non-porous and easy to clean.
How not to love him?!
Read also: Lelo Soraya Wave vs Soraya 2!
"INA 2 vs SORAYA 2 are quite similar in comparison when it comes to stimulation types because they're designed for blended orgasms," writes Donna Turner in her comparison article.
Both the Lelo Ina and Soraya are high-quality rabbit vibrators that offer you a variety of pleasurable sensations.
Both have long battery lives, are fully waterproof, and have two separate motors for customizable pleasure.
The Ina and Soraya also have flexible external stimulators that can adapt to different body types.
It's hard to decide which one is better… and that's why I bought both.
Fewer problems, more orgasms. Only pros. But please… don't tell my partner.
You may compare: the Ina has a classic design, while the Soraya has a more sleek and ergonomic shape…
Both vibrators offer a variety of vibration patterns and intensity levels, and both have the unique "come hither" motion feature.
It may take some trial and error to find the right toy for you, but… as I said.
The more orgasms I have, the less I bite.
Don't come near me without a vibrator and coffee. Sequence to choose.
https://www.instyle.com/shopping/sex-relationships-rabbit-vibrator